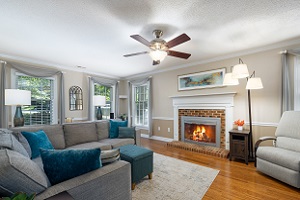 Protection for What Matters Most
For Broken Arrow, Tulsa, Coweta, Bixby, Owasso, Jenks and Wagoner, Oklahoma
Home is a small word that means a lot of things. It's not only somewhere you live, but it's a place to grow, learn, relax and raise a family. A home is also a large investment, and you want to protect it.
At Harmon Insurance, we match families with reliable and affordable home insurance policies. By working with a multitude of top insurance carriers, we compare prices for you to protect your home and family without draining the bank.
Homeowners insurance policy coverages in Broken Arrow, Oklahoma
Home insurance is designed to cover your assets. This includes the physical structure of the home, its contents and your family. It covers five main areas:
Dwelling: Dwelling insurance compensates for damage or loss to the physical home and its attached structures. It protects against dangers such as fire, smoke, lighting, wind, hail, theft and vandalism.
Personal Belongings: Personal belongings coverage provides compensation for the same dangers as dwelling coverage, but covers your personal items instead. This coverage is limited for expensive items such as jewelry, art and furs.
Personal Liability: Personal liability insurance steps in if someone (not family) is injured or their belongings are damaged on the property. It can help pay for legal expenses, should the victim decide to sue.
Medical Expenses: If someone is injured on the property, home insurance can help pay for their medical bills related to the accident.
Additional Living Expenses: Additional living expense coverage (ALE) helps with the cost of temporarily moving if the home is rendered uninhabitable after a disaster.
Basic homeowners policies don't cover everything. We also find additional coverages to bridge the gaps of coverage left by normal home insurance policies, such as:
Flood Coverage: Contrary to popular belief, basic home insurance coverage does not include flood insurance. Floods are an increasing problem in the U.S., especially in Oklahoma. In some areas, you may even be required to carry this insurance. Flood insurance compensates for damage or loss to the dwelling or your personal belongings as a direct result of flooding.
Earthquake Coverage: Earthquake is another natural occurrence not usually covered under home insurance. You can purchase this policy separately to cover damage caused by earthquakes.
Jewelry Coverage: Expensive jewelry has limited coverage under basic home insurance policies. Having a jewelry policy floater can help cover expensive jewelry such as wedding and engagement rings.
Personal Umbrella Insurance: Umbrella liability insurance steps in when your other liability policies reach their limit.
How Much is Homeowner's Insurance in Oklahoma?
Home insurance in Oklahoma costs an average of $2,559 per year, which is over a thousand dollars higher than the national average. This is in part due to Oklahoma's unpredictable weather, but it can also be influenced by your credit score, zip code, replacement value of the home and more.
How Long Does Oklahoma Have to Settle a Claim in Oklahoma?
Typically insurance agencies have 15 days in Oklahoma to accept or deny a claim after receiving the necessary information, but they may add 45 days at most so long as they notify the policyholder. Once a claim has been accepted, the insurer must issue payment within five days.
Protect Your Home
Every homeowner needs insurance, but it doesn't have to be expensive or complicated. The agents at Harmon Insurance offer fantastic customer service while finding the best policies for each individual and family. Give us a call at 918-251-2511 or fill out a form for an online quote today!