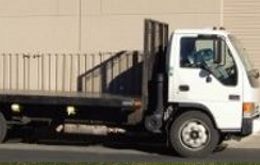 For Broken Arrow, Tulsa, Coweta, Bixby, Owasso, Jenks and Wagoner, Oklahoma
Commercial auto insurance is the insurance you need if your business utilizes any sort of vehicle, from a small passenger vehicle to a large dump truck. For businesses that depend on their vehicles, business car insurance or commercial truck insurance provides a safety net in cases of accidents involving equipment, workers and even third parties. Whether your employee drives over a patch of oil and hits a fence or if you are moving heavy supplies and accidentally smash through a window, your commercial vehicle insurance has got you covered!

If you or your employees use your vehicle as part of your business, you need a commercial auto policy. Often these vehicles are covered:
Passenger vehicles
Service utility trucks
Pickup trucks
Vans
Food trucks
Box trucks
Cargo vans
Large trucks
Trailers
Cars
Note: If you drive for Uber, Lyft, or a delivery service like Amazon or Postmates, you will need rideshare insurance instead.
Providing Commercial Auto Insurance in Broken Arrow, Oklahoma
What does Commercial Auto Insurance cover?
Bodily injury- this section of your commercial vehicle policy that covers claims of physical injury to a third party. It can include medical expenses, legal fees, loss of income, pain and emotional damage, and even funeral expenses.

Comprehensive coverage:
This section also covers your vehicles, but in cases other than collisions. Comprehensive coverage could help you repair or replace your vehicle after theft, vandalism, or weather-related damage.

Medical payment coverage / personal injury coverage: In this case, personal injury covers you and your employees, rather than third parties.
Collision coverage: Pays for damage to your vehicles from accidents, regardless of fault.

Liability coverage:
Bodily injury liability (BIL) covers you when you or one of your employees cause bodily injury to another party while using one of your covered vehicles, and property damage liability (PDL) covers you when you or one of your employees cause property damage to another party while using one of your covered vehicles.

Property damage:
Third party coverage for property damage (e.g. car damage) in an accident where you are at fault.

Uninsured/underinsured motorist coverage:
Pays for damage caused by an uninsured or underinsured driver.

Remember: just because something is not required, it does not mean you cannot or should not obtain that type of coverage. The most important thing we strive to do with our commercial auto insurance policies is to help solve your problems and avoid future problems. Looking to get started? The process is easy and painless. Give us a call at 918-251-2511, fill out a quote or stop by and see us. Let us get to know you and your business then you can depend on us to help keep you safe!
With many different options, commercial car insurance can be confusing. We can help you with your commercial vehicle insurance needs in Broken Arrow Oklahoma including the Coweta, Jenks, Owasso, Tulsa, and Wagoner areas. So contact one of the agents at Harmon Insurance for your Oklahoma commercial auto insurance needs.