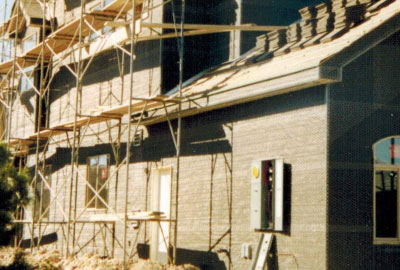 Comprehensive and Affordable Insurance for Contractors
For Broken Arrow, Tulsa, Coweta, Bixby, Owasso, Jenks and Wagoner, Oklahoma
Contractors face many unique dangers compared to other businesses. Not only do contractors deal with clients on a regular basis, but they also operate machinery on client property, which brings about a lot of risk.
Contractors Insurance Coverages in Broken Arrow, Oklahoma
Harmon Insurance works with contractors throughout Oklahoma to protect the business without paying too much for coverage. As an independent agency, we do the hard work for you by comparing prices of top carriers and tailoring a policy fit for your business. We can offer a wide array of coverages, including:
General Liability
General liability insurance is perhaps the most important insurance for contractors. A lot of accidents can happen when you're working on someone else's property and using potentially dangerous tools. General liability has three main areas of coverage:
Bodily Injury coverage steps in if your business accidentally causes bodily injury to someone else. For example, if you leave a sawblade out and the owner of the home trips over it and slices their leg, this insurance will help compensate for their medical bills. It can also help with legal fees if the victim decides to sue.
Property Damage coverage steps in if your business damages someone else's property. For example, if one of your contractors accidentally starts drilling through the wrong wall, this insurance can help pay for the damages and possible legal fees if the victim decides to sue.
Personal or Advertising Injury covers claims involving libel, slander, copyright infringement, stolen advertising ideas and more.
General liability can be bundled with property insurance into a <business owners policy> along with other important coverages not included in general liability.
Workers Compensation
Workers compensation laws in Oklahoma can be complicated, especially for contractors. Overall, most businesses must have workers compensation even if they have only one part-time employee. If your contracting business is a family businesses in which all "employees" are related, you may be exempt from workers compensation.
Sole contractors are not considered employees in Oklahoma, so an employer that hires you as a sole contractor for a project does not have to provide you with workers compensation.
Workers compensation is crucial for businesses with employees, especially those working with heavy and potentially dangerous tools. It provides compensation for medical bills, lost income, disability benefits and even death benefits in the unfortunate case that an employee passes away on the job.
Commercial Auto Insurance
If your business owns or uses vehicles for work purposes, you will need commercial auto insurance. This insurance is not only required, but extremely important to protect the vehicles necessary for your business from dangers such as fire, theft, vandalism, collision and more.
Oklahoma's minimum commercial auto insurance requirements are:
$25,000 in bodily injury liability per person
$50,000 in bodily injury liability per accident
$25,000 in property damage liability
Requirements may vary depending on the purpose and weight of the vehicle, as well as the distance intended to travel. If you carry hazardous materials, you may require higher limits of liability insurance in case of an accident.
Commercial auto insurance includes the same coverages available for personal auto insurance, plus others unique to commercial vehicles. For example, Hired or Non-Owned Vehicle coverage covers vehicles hired, leased, or borrowed by the company.
Safeguard Your Contracting Business
No matter what type of insurance you need, Harmon Insurance agents are here for you. Give us a call at 918-251-2511 to get started or fill out a form for a free online quote today!