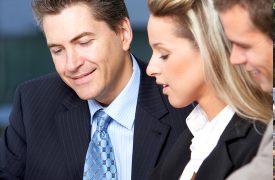 Comprehensive Business Owners Policies for Oklahoma Businesses
For Broken Arrow, Tulsa, Coweta, Bixby, Owasso, Jenks and Wagoner, Oklahoma
When searching for business insurance, it's easy to become overwhelmed with the amount of coverages and policies available. You don't want a ton of policies to deal with, but you still need the right amount of coverage for your business.
Thankfully, there are policies tailored to bundle coverages for businessowners. A business owners policy (BOP) combines important coverages for businessowners into one comprehensive policy.
At Harmon Insurance, we hunt for the best price and highest quality BOPs for each client. We'll work closely with you to make sure your business has the coverage it needs at a price you're happy with.
Business Owners Policies in Broken Arrow, Oklahoma include:
At its bare minimum, a business owners policy combines:
General Liability covers accidents and acts of non-professional negligence. It covers incidents of bodily injury, property damage and personal or advertising injury.
Property Insurance covers the physical property of the business, such as a store or restaurant, as well as its contents. It typically covers against incidents involving fire, smoke, lightning, hail, wind, theft, vandalism and more.
BOPs can be expanded for coverage depending on the business' needs. Common coverages added to a BOP are:
Business Interruption Insurance compensates for lost income after a disaster if it renders the business inoperable.
Crime Insurance covers unfortunate cases where employees steal from the business.
Flood Insurance compensates for damage or loss of business property due to flooding.
Commercial Auto Insurance provides coverage for vehicles owned or used by the business. This may include comprehensive, collision, liability and more.
How Do You Qualify for a Business Owners Policy?
BOPs are generally tailored for small businesses. The category of a "small" business varies depending on your location and industry. Typically, small businesses are decided based on number of employees and amount of income earned each year.
How Much is a Business Owners Policy in Oklahoma?
BOP prices vary wildly depending on several different factors, including the size of your business, coverage types and limits, claim history, credit score and more. For general liability alone, most small Oklahoma businesses pay somewhere between $300-$5,000 a year. BOPs combine coverages to save business owners money on crucial insurance.
Get a BOP Today
A business is an exciting venture, and it's also a huge investment. Protect that investment today with a reliable business owners policy from Harmon In